September 13, 2019
Brazilian Blowout and why we only use this treatment with Formaldehyde
by
Joshua Altback
Blow Dry
Hair Straightening
Being the first hair salon in London to introduce the Brazilian Hair Straightening Treatment also known as The Brazilian Blow Dry, Brazilian Blowout, Permanent Blow Dry and Brazilian Keratin Treatment. We now have enough knowledge and expertise to answer all our clients questions.
Years ago the first keratin products that we used were imported from Brazil and America. These products all contained a substance called formaldehyde. Our keratin specialists had to wear a mask whilst applying the product and we installed extractor fans in the ceiling above each position to eliminate the fumes during the blow drying and ironing process. Unfortunately when we had thicker hair types we had to use more product and that would result in more fumes in the salon making it very uncomfortable for our clients and keratin specialists.
Over the years we tried and tested many different products with and without formaldehyde in them and although the results were much straighter with the formaldehde, we found that after several applications on the same hair or even once on porous hair it would result in the hair losing all it's natural body and leave a permanent barrier around the hair follicle stopping the natural hair from growing and making it resistant to future Colour processes.
That said if you use the Brazilian Blowout (which has formaldehyde) on the right textured hair with the correct application using a small amount of product and with our newly fitted extractor fans you don't get any fumes and the hair will benefit from the treatment. With the brazilian blowout, it's all about "less is more". We also had to make sure we had other alternative products that would give similar results especially for thicker curlier hair types.
After testing different brands from all over the world we eventually found the treatments that would make our clients happy. For straighter results we use a product called Elastin from Discovhair.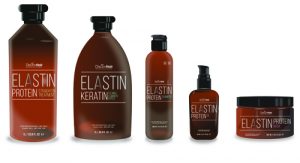 The formula contains rich concentrated proteins of selected amino acids from the hydrophobic amino acid family. So the main acid is the Elastin Protein. This protein has elastic and flexible qualities enabling it to stretch the disulphides in the hair but still keeping it flexible and strong. The end results in hair smooth, shiny, straighter and frizz free. This treatment enables you to blow dry your hair with ease in different ways and will keep your desired look for much longer until you shampoo again. It also enables you to have your Colour done before or after the treatment and will boost the hair condition to make the Colour last longer.
Check out our next blog when we talk about all our other products and the results we can achieve including our brand new curly treatment from Tanino which will define your curls and eliminate your frizz!